LOS CABOS AIRPORT TRANSPORTATION | LOS CABOS AIRPORT TRANSFERS
LOS CABOS AIRPORT – LOS CABOS AIRPORT TRANSFERS - LOS CABOS AIRPORT TRANSPORTATION - CABO TRANSPORTATION - CABO AIRPORT TRANSFERS - CABO AIRPORT TRANSPORTATION - LOS CABOS TRANSFERS - LOS CABOS TRANSPORTATION
Need a Ride? we're the #1 ground transportation company in the Los Cabos Airport!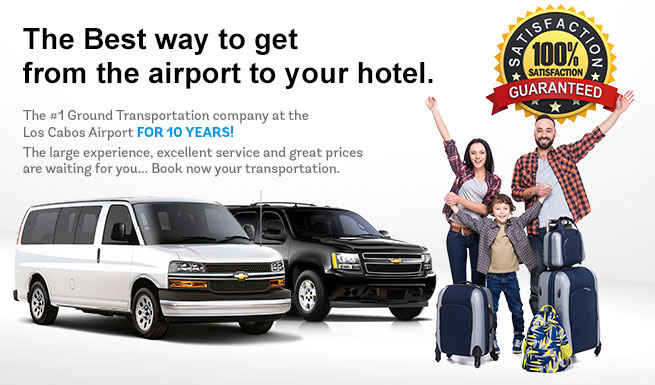 Why Reserve your Los Cabos Airport Transportation with Us?
Welcome to Los Cabos Airport Transfers Services
We know that a long trip is tiring, you may not be in the mood to be getting a taxi outside of the airport, you should also consider that the services that are hired at the time are usually more expensive and not always reliable, do not risk, plan your trip, include Los Cabos Airport Transportation from the airport to your destination and save money, take advantage of our online rates, we have great prices, guaranteed
Book with us your Los Cabos Airport Transportation and enjoy the tranquility and security of having this service booked, safe and contented travel with our vehicles equipped and suitable to provide the greatest comfort during your Transfer in Los Cabos
"Feraltar Los Cabos Airport Transportation "is the official transportation operator of Los Cabos-airport. net, a prestigious company that has over 25 years of experience offering Transportation Service in Los Cabos. It has a large fleet of vehicles, including the Vans, Suburban's and Limousines (all vehicles are recent models). Feraltar Los Cabos Airport Transfers "offers private ground transportation services, personalized airport reception and any information you need to know about the destination.
GPS Tracking
Only qualified chauffeurs
Travel insurance
Baby car seat (under request)
Flight monitoring
Great rates online
Our staff is committed to providing an excellent Transportation from Los Cabos Airport to ensure our clients' satisfaction.
Leave everything in our hands, our representatives will help you with your belongings and take you to your hotel in Los Cabos, in the fastest and safest way possible. Don't forget that taking a Taxi at Los Cabos Airport means paying very expensive fares, and you'll probably have to wait a long time before it's your turn.
Avoid long lines and don't waste your valuable time, and hire our comfortable and luxurious but low-cost transportation service from Los Cabos Airport to your hotel in Los Cabos.

Our company owns a fleet of vehicles and our Los Cabos Airport Transportation service is never sold or purchased from a third party, like other online companies. This is important for you to know, since you are dealing with an official transportation company.
Neither a broker nor an intermediary can appear online as "a true service provider". It is also important to mention that we NEVER share ANY information you provide when making your reservation.
We know how important your peace of mind is. Get rid of the pendants of your travel plan by giving us the opportunity to serve you. Book with www.Los Cabos-airport.net and find great rates for transportation in Los Cabos.